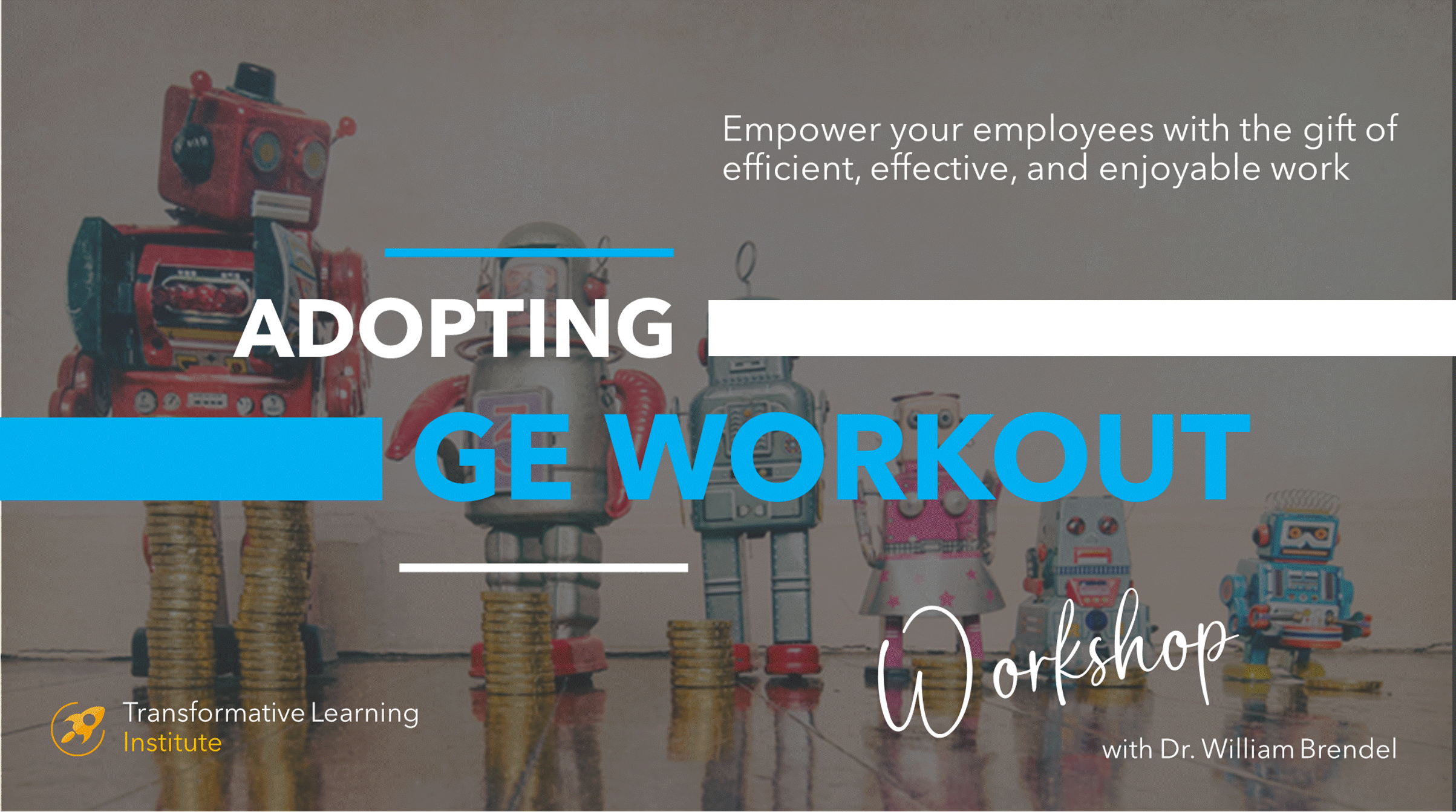 Your Organization needs this Workshop!
Savings created by eliminating inefficient and wasteful processes are estimated to exceed $90,000 - $150,000 yearly. Savings are based on a reduction in role and task confusion, interdepartmental conflict, and redundant efforts.
Work-Out is a highly facilitated meeting that gets the right people in the room at the same time. It an be used to bring your people together with customers or suppliers to develop innovative ways of doing business together. No matter what the challenge, the process remains the same. With a common language, set of tools and framework, Work-Out empowers people to carry out the solutions in a highly structured fashion, holding members accountable for the strategies they develop. Work-Out also expedites "yes or no" decisions on solutions in a public forum. With a more responsive organization, problem solving becomes a shared responsibility rather than relying on a more traditional top-down approach.
2.5 hour and 1/2 day options available
in-person or Zoom
Learn the uses, examples and basic processes of GE Workout.

Learn how to take teams from forming to performing as quickly as possible.

Practice tools and frameworks for making progress practical.

Identify opportunities and challenges suitable for workout and arrange the right people.
Dr. William Brendel (Bill) earned his doctorate at Columbia University and for over 20 years has facilitated the strategic transformation of leaders, teams, and organizations. As founder and principal consultant for the Transformative Learning institute, Bill enjoys helping a wide variety of organizations around the world in locations such as the U.S., Africa, China, Korea, and India. ​In addition to consulting, Bill is also an Assistant Professor at Penn State University, where he teaches graduate courses to aspiring consultants. He has also taught in programs at Columbia University, Georgetown, Texas A&M, Temple University, and the University of St Thomas.
In 2021, Bill received the Lisa Kimball Evolving the Field of Organization Development Award, one of the field's highest honors, for his outstanding accomplishments in connecting diverse people and ideas to advance OD theory and applications worldwide. He is a trustee on the board of the Organization Development Network and leads the Organization Development Education Association.​​ Bill also shares his knowledge of organization development practices through his publications in books, articles, blogs, and popular press. He is frequently interviewed about current events that pertain to organizational strategy and culture. In 2017, Bill was interviewed by Variety Magazine, for his views on corporate culture and complicity surrounding the Harvey Weinstein scandal. He has written frequently for the Star Tribune, and blogs on cutting-edge approaches to strategic transformation on LinkedIn. Dr. Brendel has consulted and trained leaders in the organizations listed below: